"Hold Me Tight / Let Me Go" Workshop for Families with Teens – Boulder, CO
Parents Are Frustrated;
So Are Their Teens.
           Bring Your Family and Learn How To Start Talking Again.
September 9 & 10, 2017
We are offering Boulder's first "Hold me Tight/Let Me Go" (HMT/LMG) Weekend Workshop for families with teens.
Please bring your teens to this new "Hold Me Tight Program for Families." Supported by Dr. Sue Johnson and soon to be published by ICEEFT, this is a sister program to the world renowned HMT Couple program. HMT/LMG is an educational workshop for parents and teens that moves relationships from distress toward comfort, understanding and connection.
With the help of exercises, structured parent/teen conversations, and group support, families will grow appreciation for how to rely on each other when Hold Me Tight is accompanied by Let Me Go during this important transitional stage of family life.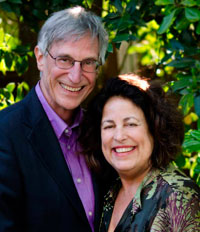 Drs. Nancy and Paul Aikin, Creators of HMT/LMG, Are EFT certified trainers, supervisors & therapists, & Directors of the Sacramento-Davis EFT Center.
Open to families with teens ages 13 through 19. Single parents or other caregivers (grandparents, etc.) are welcomed if they are the primary adults in a parenting role with their teens. Enrollment is limited.
"I've already raised a teen and I raised our son the way I was raised. You didn't ask the teen their opinion, you fed them their opinion until they took it as their own. So when my son left home, he was ready (to be a good citizen), but we weren't connected as a family. I didn't know him and he probably didn't know himself!
Now, I see my home as a nest where our daughter can find out what she thinks, develop her mind and ideas and we're there to help her, guide her and respect her knowing she has a soft place to fall if she fails. I'm not to send her out as a carbon copy of who I am, but rather to let her be who God made her to be. It really takes some of the pressure off being a parent. 
When Sue and Angie said we should go to this seminar and it cost $500 for Friday night and Saturday, I thought, 'That's a lot of money! Can it be worth that?' Now I say, 'Throw the money down and do it!!' "
– Theresa S.
Cost: $600 ($500 before August 9th)
Schedule:
Saturday Afternoon (For Parents Only) 1:00 – 5:30 pm, and
Sunday (For Parents and Teens) 9:00 AM to 5:00 pm.
Location:
The Hampton Inn & Suites Boulder-North 6333 Lookout Rd., Boulder, CO 80301
To register:
Please fill out the following registration form: Boulder – HMT LMG Workshop Registration Form.
Cost:
$600 ($500 before August 9th)

Cancellation Policy:
Two weeks+ advance notice – Full refund less $40 administrative costs
Between 7­-13 days notice – One half of the total fee will be refunded
Less than 1 week notice – We are unable to offer a refund when canceled within one week of the workshop date, due to fixed costs and contractual obligations. When you enroll, it is with the understanding that you will attend. Please contact us as soon as possible if you need to cancel your attendance.