Welcome to Aikin Associates
---
ICEEFT - Certified EFT Trainers, Supervisors, and Therapists for the Greater Sacramento-Davis Region

---
EFT is usually a short term, structured approach to couples therapy formulated in the early 80's by Dr. Sue Johnson. EFT is also used with families. A substantial body of research outlining the effectiveness of EFT now exists. Research studies find that 70-75% of couples move from distress to recovery and approximately 90% show significant improvements.
Read More

---
Drs. Paul and Nancy Aikin are EFT certified trainers, supervisors and therapists. They offer workshops for individuals, couples and therapists in the Davis and greater Sacramento, California area, as well as, national and international workshops.
For more information on upcoming workshops:
Click Here 
Don't Miss Out! Workshop announcements sign-up list.
EFT Externships & Core Skills
4-Day EFT Externship® 
Transform The Way You Work With Couples And Your Practice
Earn 28 CEU's in 4 days!
Emotionally Focused Therapy and the Science of Love
This is an official Externship endorsed by the International Centre for Excellence in Emotionally Focused Therapy (ICEEFT)
Click Here for more information.
---
Core Skills Advanced Training
Co-Sponsored by: The SacD EFT Center and TRI EFT
Four 2-day workshops will provide an in depth study of each of the EFT steps. Each day will contain instruction and group supervision of EFT work according to the guidelines set out by the Centre for Excellence in EFT (ICEEFT in Ottawa).
Dr. Sue Johnson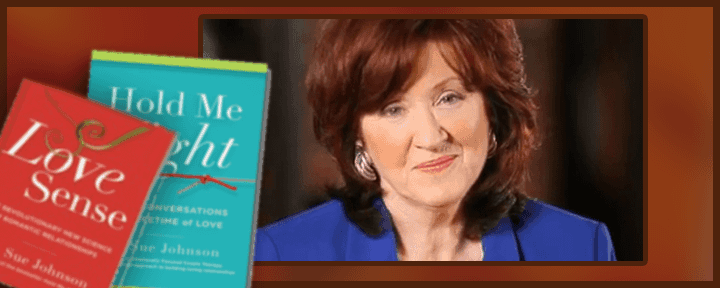 Dr. Sue Johnson is the founder and director of the International Centre for Excellence in Emotionally Focused Therapy (ICEEFT), author of "Love Sense" and "Hold Me Tight: Seven Conversations for a Lifetime of Love", an award-winning researcher, popular speaker, and presenter. We were very lucky to have her speak about her research and answer audience questions at the Veterans' Memorial Theater on January 20, 2015.
You can hear a short interview with Dr. Johnson that aired a few days before her presentation on NPR and CapRadio by clicking here.
In the video below, Dr. Sue Johnson and Ed Tronick demonstrate the effect of withdrawal of connection on an infant with its mother, and a romantic adult couple. Primal panic and abandonment is evidenced in both situations.
https://www.youtube.com/watch?v=OyCHT9AbD_Y